Select the Messages tab at the top of the My Account area to display any messages library staff have added to your account.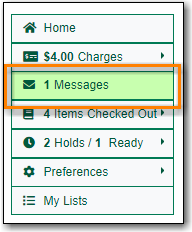 An indicator will also appear in the upper right corner when you have new messages.

You can set messages to read or unread, or delete them by selecting the message(s) and then choosing the desired action from the Action for selected messages menu and clicking Go.
Unread messages appear with the subject bolded. Click on the subject to read the message.